Asks "why?" too much
Gold Member
Local time

12:51
Joined

Oct 7, 2019
Messages

189
Pronouns

she/her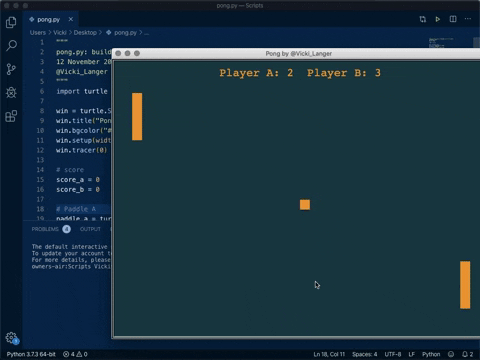 What better way is there to learn than by doing? So, I built pong. I've had a hard time understanding how to break down programs into smaller chunks. So, this really helped me understand a bit more about how to do that. Specifically, this script is broken down to screen, score, paddle_a, paddle_b, and ball.
paddle_a, paddle_b, and ball are all Turtle objects from the turtle module in Python.
This was highly influenced by this video by @TokyoEdTech.
Source Code:
"""
pong.py: build classic pong game with turtle module
12 November 2019
@Vicki_Langer
"""
import turtle

win = turtle.Screen()
win.title("Pong by @Vicki_Langer")
win.bgcolor("#0b3c49")
win.setup(width=800, height=600)
win.tracer(0)

# score
score_a = 0
score_b = 0

# Paddle A
paddle_a = turtle.Turtle()
paddle_a.speed(0)
paddle_a.shape("square")
paddle_a.color("#f2a130")
paddle_a.shapesize(stretch_wid=5, stretch_len=1)
paddle_a.penup()
paddle_a.goto(-350, 0)

# Paddle B
paddle_b = turtle.Turtle()
paddle_b.speed(0)
paddle_b.shape("square")
paddle_b.color("#f2a130")
paddle_b.shapesize(stretch_wid=5, stretch_len=1)
paddle_b.penup()
paddle_b.goto(350, 0)

# Ball
ball = turtle.Turtle()
ball.speed(0)
ball.shape("square")
ball.color("#f2a130")
ball.penup()
ball.goto(0, 0)
ball.dx = 2  # ball moves right by 2 pixels
ball.dy = 2  # ball moves up by 2 pixels

# scoreboard
pen = turtle.Turtle()
pen.speed(0)
pen.color("#f2a130")
pen.penup()
pen.hideturtle()
pen.goto(0, 260)
pen.write("Player A: 0  Player B: 0", align="center",
          font=("Courier", 24, "normal"))

# function
def paddle_a_up():
    y = paddle_a.ycor()
    y += 20
    paddle_a.sety(y)


def paddle_a_down():
    y = paddle_a.ycor()
    y += -20
    paddle_a.sety(y)


def paddle_b_up():
    y = paddle_b.ycor()
    y += 20
    paddle_b.sety(y)


def paddle_b_down():
    y = paddle_b.ycor()
    y += -20
    paddle_b.sety(y)


# keyboard binding
win.listen()
win.onkeypress(paddle_a_up, "w")
win.onkeypress(paddle_a_down, "s")
win.onkeypress(paddle_b_up, "Up")
win.onkeypress(paddle_b_down, "Down")

# main game loop
while True:
    win.update()

    # move the ball
    ball.setx(ball.xcor() + ball.dx)
    ball.sety(ball.ycor() + ball.dy)

    # border checking
    if ball.ycor() > 290:
        ball.sety(290)
        ball.dy *= -1

    if ball.ycor() < -285:
        ball.sety(-285)
        ball.dy *= -1

    if ball.xcor() > 390:
        ball.goto(0, 0)
        ball.dx *= -1
        score_a += 1
        pen.clear()
        pen.write("Player A: {}  Player B: {}".format(score_a, score_b), align="center",
                  font=("Courier", 24, "normal"))

    if ball.xcor() < -390:
        ball.goto(0, 0)
        ball.dx *= -1
        score_b += 1
        pen.clear()
        pen.write("Player A: {}  Player B: {}".format(score_a, score_b), align="center",
                  font=("Courier", 24, "normal"))

    # paddle and ball collision
    if (ball.xcor() > 340 and ball.xcor() < 350) and (ball.ycor() < paddle_b.ycor() + 40 and ball.ycor() > paddle_b.ycor() - 40):
        ball.setx(340)
        ball.dx *= -1

    if (ball.xcor() < -340 and ball.xcor() > -350) and (ball.ycor() < paddle_a.ycor() + 40 and ball.ycor() > paddle_a.ycor() - 40):
        ball.setx(-340)
        ball.dx *= -1
Edit: Added how and why
Last edited: